Cal Petit is a family-run mountain hotel located at the entrance to Oliana, a small town at the foot of the Pyrenees, where you can enjoy a truly relaxing stay in total peace and quiet.
Cal Petit , an inviting stone and wood building in a rural setting surrounded by nature, combines the essence of the most traditional with all the advantages of modern. The scenery, cuisine and the warm, homely treatment offered by the Esteve family, create a peaceful, comfortable atmosphere that never fails to impress.
Cal Petit first opened as a restaurant in April, 1984, located in the old stables of a manor house. A few years later, this property had to be given up to make way for the new Rialb reservoir and the family had to look for a new location, in short the place where we are now. At first, it only offered a restaurant service with traditional mountain cuisine. Eventually, in 2001, the hotel was opened.
Today, the hotel and restaurant have become a reference point within the territory, due to the close customer relationship, the quality of the food and service, as well as a passion for motorsports. Proof of this passion, especially for MotoCross and Enduro, can be found throughout our hotel: in the dining room, the reception area, the café… The fact is that petrol clearly runs through the veins of the Esteve family, and continues to do so in the youngest of the four brothers, Isidre Esteve.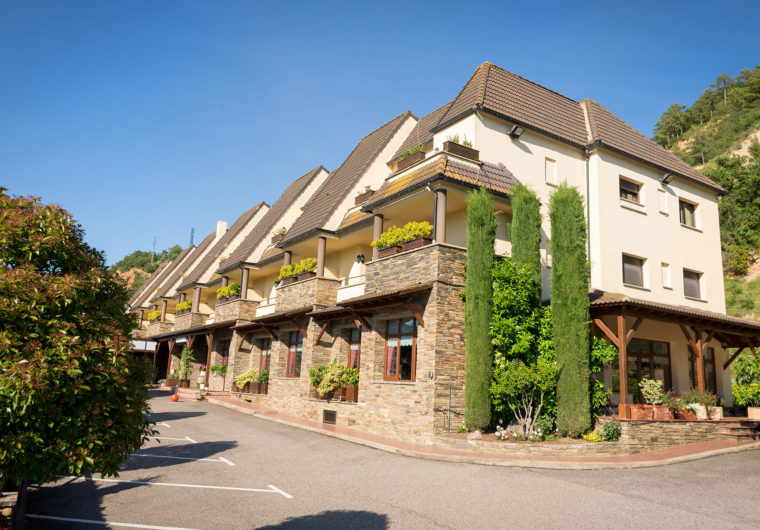 Traditional mountain cuisine.

A space to relax and enjoy the moment.

Two indoor saltwater pools.

A fun-filled space for the little ones.

Peace and quiet in unique surroundings.

Parking and private garage
Garage for motorcycles and bicycles with a small workshop. Outdoor covered parking for cars.

4 charging points for electric vehicles (2022).

Exclusive for hotel and restaurant guests.

Hotel and restaurant open to pets (with restrictions).